BIOGRAPHY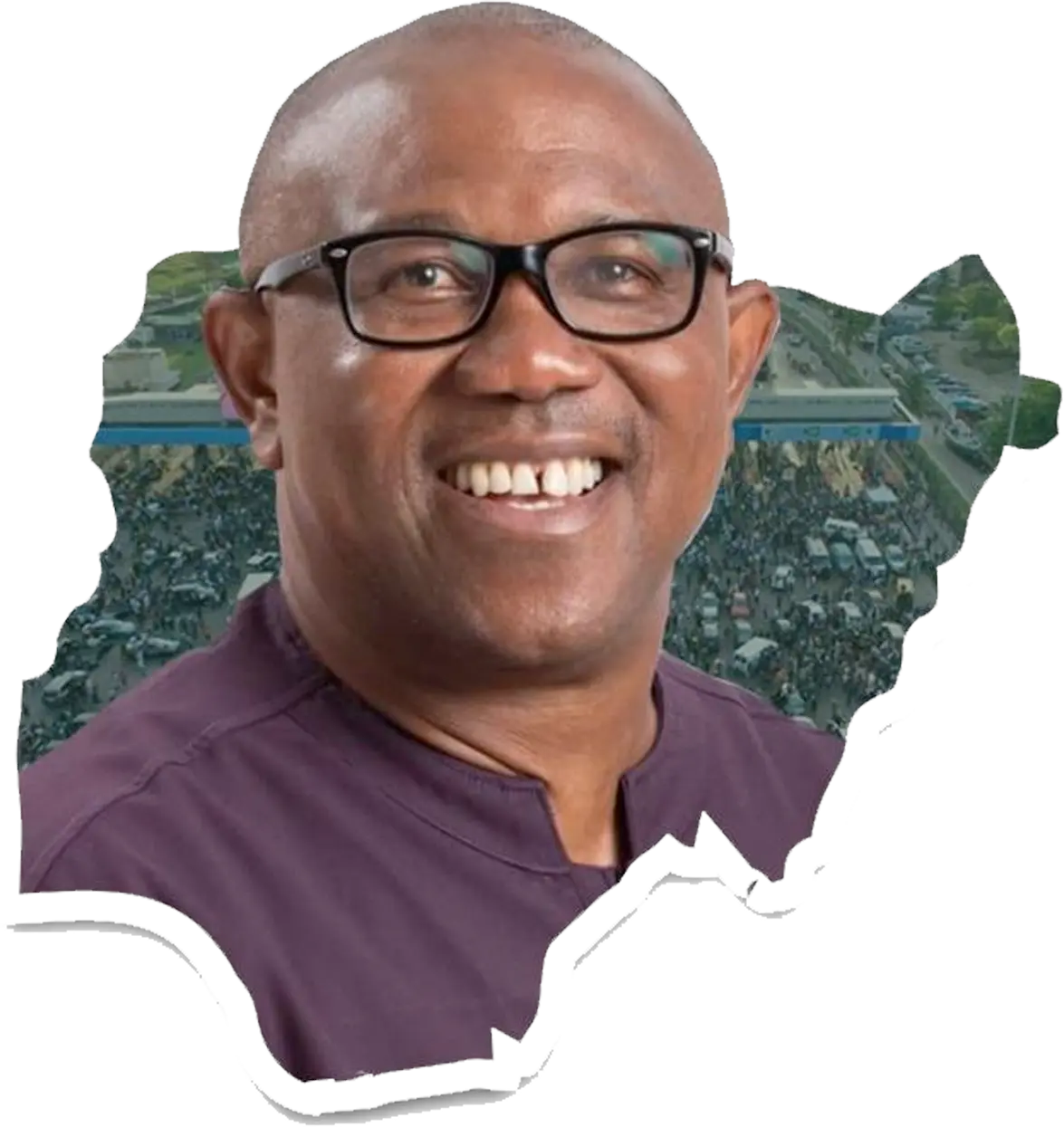 WHO IS
PETER OBI

?

Peter Gregory Obi is a Nigerian politician Though born in Onitsha on July 19, 1961, he is a native of Anambra state. Obi is an alumnus of Christ The King College, Onitsha and the prestigious University University of Nigeria, Nusukka; class of 1984.

He is a seasoned businessman and veteran banker with credible training and coaching from Lagos Business School, Nigeria, Harvard Business school, Boston, USA, London School of Economics, Columbia Business School, New York, USA. He also bagged a couple of executive degrees from the Institute For Management Development, Switzerland, Kellogg Graduate School of Management, USA, Oxford University and Cambridge University: George Business School.
PETER OBI

, A Babe In The Woods?

The project to rebuild Nigeria requires both soft and hard skills expertise. Hence, Peter Obi is the perfect man for the job. He is not a rookie to the Nigerian political scene and nation building as a whole.

He was the Vice Presidential Candidate in the 2019 Nigerian general election under the Peoples Democratic Party. And also the former governor of Anambra State. He served from 17 March 2006 to 2 November 2006, when he was impeached and from 9 February 2007 to 29 May 2007 after his impeachment was overturned.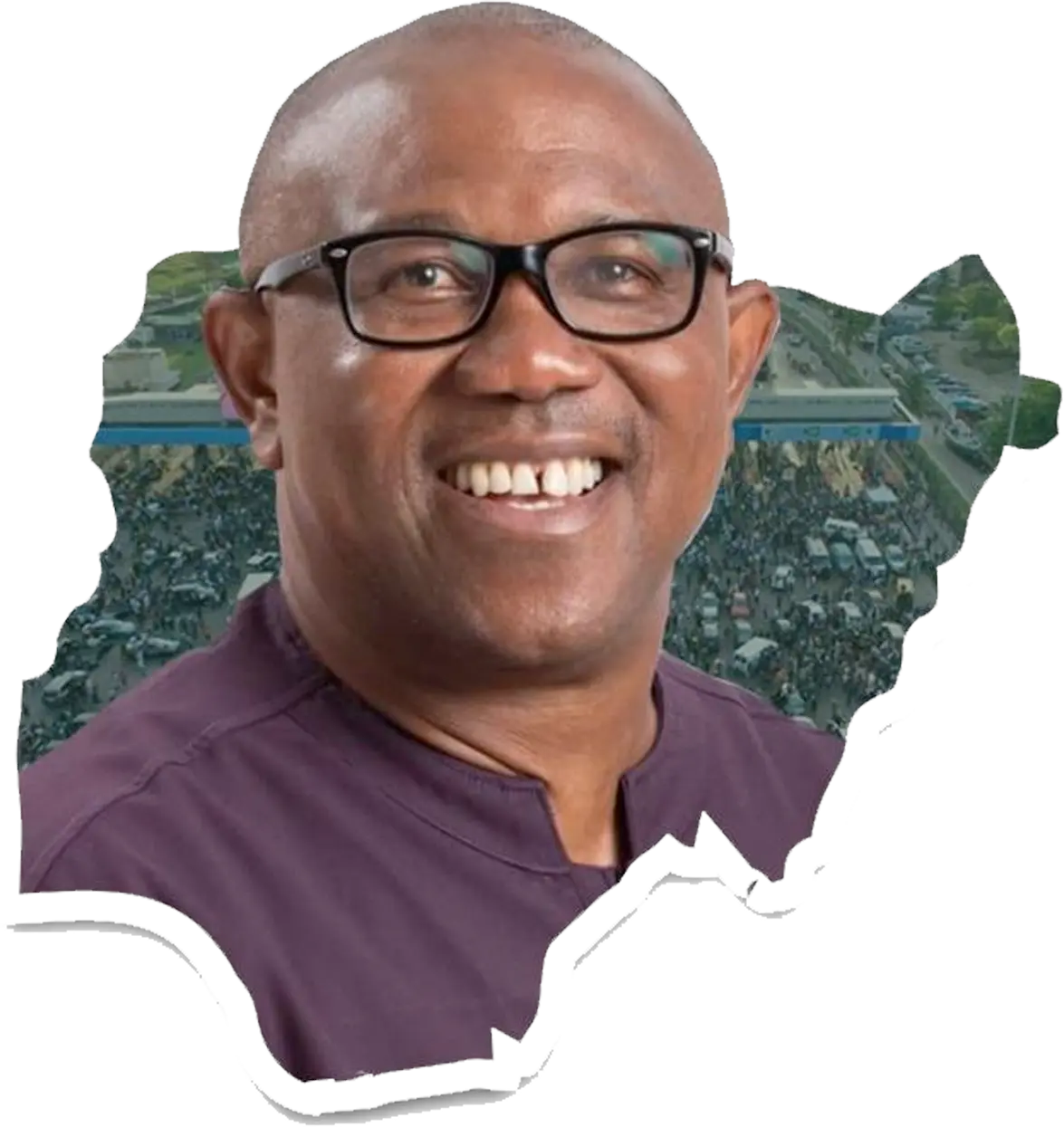 Why Should You Vote for
PETER OBI

?
Democracy is a government of the people, by the people and for the people
Abraham Lincoln
The ball is in your court! Come February, exercise your political right. Join Peter Obi in rebuilding Nigeria by voting for national change that will manifest via provision of more and better jobs, a flourishing economy, improved quality of education and healthcare infrastructure, among others.
The Big
Picture
What's better than a good picture? A big picture. Join Peter Obi in painting the big picture where Nigeria is not just a consuming nation but a producing nation.
An Obidient Call To Serve His Nation
In the run-up to the 2023 General Elections in Nigeria, Obi has become the voice of hope for a better Nigeria, presenting himself as a Presidential Candidate under the Labour Party. His candidacy has rekindled a belief in the possibility of Nigeria toeing a new path, away from entrenched corruption that has held it back for years, especially due to his standing as a significant candidate unaffiliated with either of Nigeria's two older parties.
Obi's 2023 presidential campaign has received widespread support, notably among young Nigerians, who have self-organized and championed his cause while referring to themselves as Obi-dients. His supporters believe that his integrity, efficient resource management, business acumen, respect for the rule of law, security antecedents in Anambra and overall focus on developing human capital are what Nigeria requires to regain its pride of place in the world.
Obi, who is married to Margaret Brownson Obi (Nee Usen), has two children, and has garnered various national and international honours, including Commander of the Order of Niger (CON), one of Nigeria's national honours.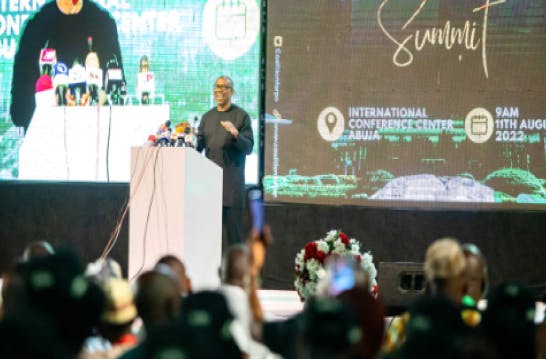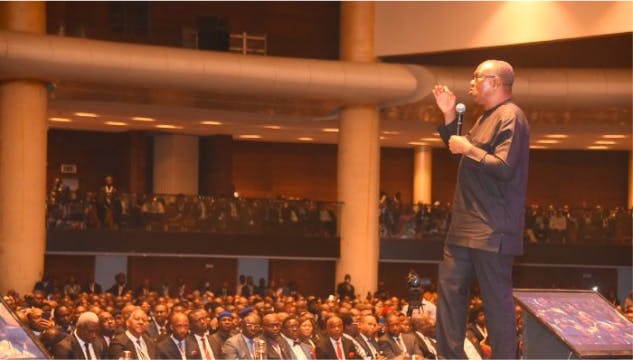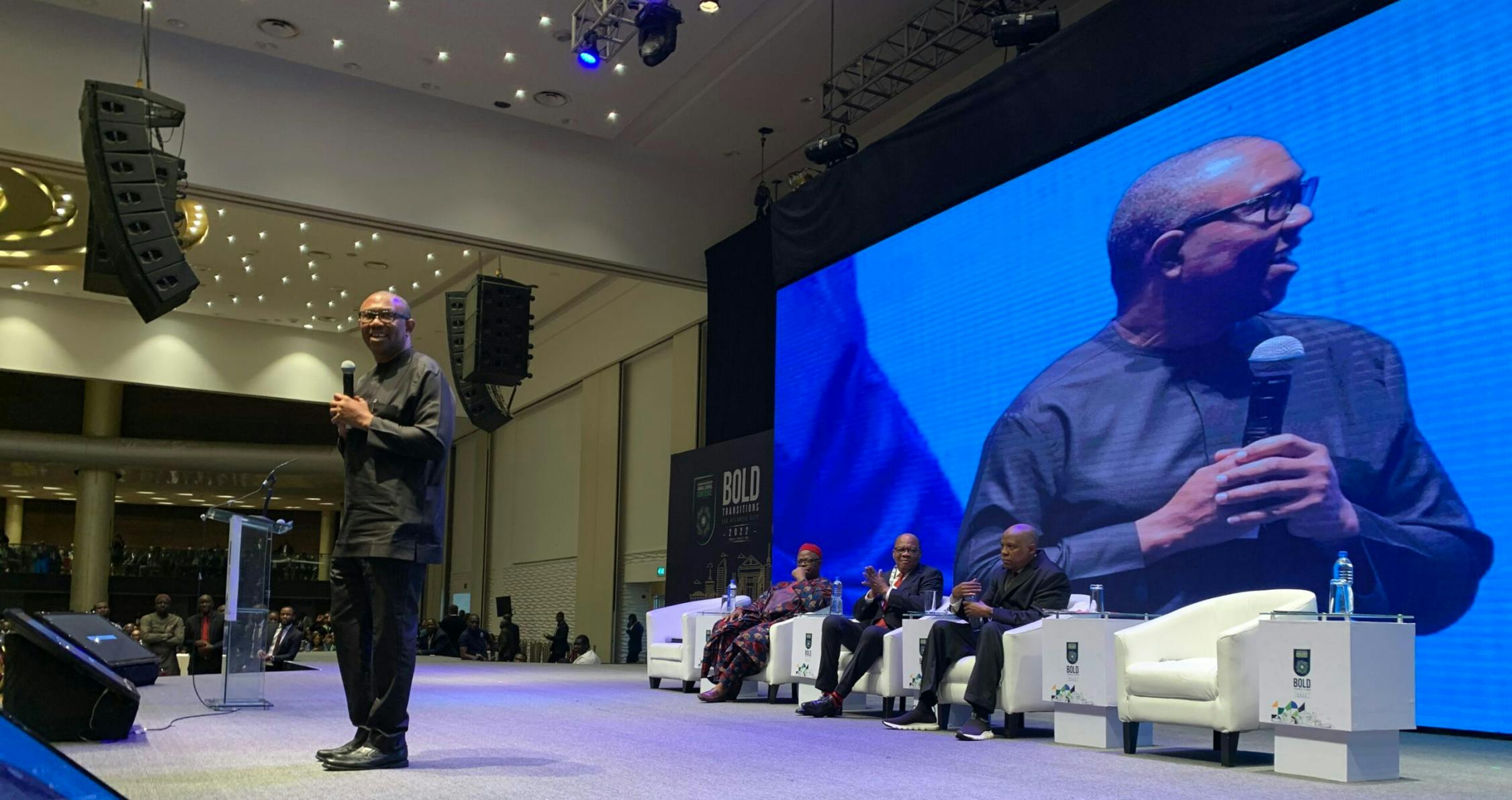 Continuous Contribution to Nation Building
Following the end of his tenure as the Governor of Anambra State, Obi was appointed the Honorary Special Adviser to the President on Finance, a position he held until May 2015, while also serving as a member of the Presidential Economic Management Team. Given his efficient management of state funds as governor, and his establishment of a healthy reserve for his successor, his contributions were thought to be invaluable to the nation, hence his additional national duties, which he fully executed until a new federal government was sworn-in.
Despite being out of government since 2015, Obi has become one of the most recognizable voices for a new Nigeria, one where character and competence are at the base of what it takes to lead the government and any of its agencies. Through various engagements and shared opinions, he has established the need for a more cost-sensitive and effective government where corruption is greatly reduced, and transparency of process is commonplace.
In 2019, as Vice Presidential candidate of the Peoples Democratic Party, he raised and drove the conversation for Nigeria and Nigerians to switch to a production mindset and economy, and ensure that the nation's resources were properly managed to yield the best results.
POLITICAL
CAREER
TIMELINE
PRE-POLITICAL CAREER

Peter Obi was a successful businessman before he ventured into politics. He started his life as a trader, being born into trading family before venturing into the corporate world. He held leadership positions in some private establishments. Some of the companies he served includes: Next International Nigeria Ltd, Chairman and director of Guardian Express Mortgage Bank Ltd, Guardian Express Bank Plc, Future View Securities Ltd, Paymaster Nigeria Ltd, Chams Nigeria Ltd, Data Corp Ltd and Card Centre Ltd. He was the youngest chairman of Fidelity Bank Plc.

FIRST TERM

2006 - 2010

Peter Obi contested in the Anambra State governorship election as candidate for the All Progressives Grand Alliance (APGA) party in 2003, but his opponent, Chris Ngige of the People's Democratic Party, was declared winner by the Independent National Electoral Commission (INEC).

After nearly three years of litigation, Ngige's victory was overturned by the Court of Appeal on 15 March 2006. Obi took office for on 17 March 2006. On 2 November 2006, he was impeached by the state house of assembly after seven months in office and was replaced the next day by Virginia Etiaba, his deputy, making her the first-ever female governor in Nigeria's history. Obi successfully challenged his impeachment and was re-instated as the governor on 9 February 2007 by the Court of Appeal sitting in Enugu. Etiaba handed power back to him after the court ruling.

Obi once again left office on 29 May 2007 following the general elections, which Andy Uba won. Obi returned to the courts once more, this time contending that the four-year tenure he had won in the 2003 elections only started to run when he took office in March 2006. On 14 June 2007 the Supreme Court of Nigeria upheld Obi's contention and returned Obi to office. This brought to an abrupt end the tenure of Obi's successor, Andy Uba whose 14 April 2007 election the Supreme Court nullified on the grounds that Obi's four-year tenure should have remained undisturbed until March 2010.

SECOND TERM

2011 - 2015

On 7 February 2010, the Independent National Electoral Commission (INEC) declared Peter Obi the winner of the 2010 Anambra State gubernatorial election, where he defeated Professor Charles Chukwuma Soludo, former governor, CBN. This election victory gave Governor Obi an additional four years as the governor of Anambra State. On 17 March 2014, Peter Obi served out his second term and handed over the governorship to Willie Obiano. After the 2015 general election, President Goodluck Jonathan appointed Peter Obi as the chairman of the Nigerian Security and Exchange Commission (SEC).

PRESIDENTIAL ELECTIONS

2019

On 12 October 2018, Peter Obi was named as the running mate to Atiku Abubakar, the Peoples Democratic Party's Presidential Candidate in the Nigerian 2019 Presidential elections. His party came second.

On 24 March 2022, Peter Obi declared his intention to run for the position of President of Nigeria under the platform of the Peoples Democratic Party, but later pulled out and announced he would be running under the Labour Party platform instead. Accordingly, Peter Obi wrote to the leadership of the Peoples Democratic Party of resigning his membership.
ACHIEVEMENTS
AWARDS AND HONORS
SUN NEWSPAPER'S MAN OF THE YEAR
2007
THISDAY NEWSPAPER'S MOST PRUDENT GOVERNOR IN NIGERIA
2009
CHAMPION NEWSPAPER'S NIGERIA'S MOST TRUSTWORTHY GOVERNOR
2009
WEST AFRICA ICT DEVELOPMENT AWARD FOR GOVERNOR OF THE YEAR
2010
ZIK LEADERSHIP PRIZE
2011
BILL & MELINDA GATES FOUNDATION'S BEST PERFORMING GOVERNOR ON IMMUNIZATION IN SOUTH-EAST NIGERIA
2012
EZEIFE LEADERSHIP FOUNDATION'S LEADERSHIP AND GOOD GOVERNANCE AWARD
2012
METHODIST CHURCH OF NIGERIA'S GOLDEN AWARD ON PRUDENCE
2012
BUSINESS HALLMARK NEWSPAPER'S MAN OF THE YEAR
2012
SILVERBIRD'S MAN OF THE YEAR
2013
THE VOICE NEWSPAPER'S AWARD FOR OUTSTANDING EXAMPLE IN LEADERSHIP AND GOVERNANCE
2014
CHAMPION NEWSPAPER'S MOST OUTSTANDING IGBO MAN OF THE DECADE
2014
NIGERIAN LIBRARY ASSOCIATION'S GOLDEN MERIT AWARD
2014
PONTIFICAL EQUESTRIAN ORDER OF SAINT SYLVESTER POPE AND MARTYR
2014
CATHOLIC DIOCESE OF ONITSHA'S GOLDEN JUBILEE AWARD
2015
THIS DAY'S GOVERNOR OF THE DECADE
2020